Speros Vryonis,Jr.

The Byzantine Legacy in Folk Life and Tradition in the Balkans

From The Byzantine Legacy in Eastern Europe, edited by Lowell Clucas, East European Monographs, Boulder,New York, 1988.


6. The panegyris

One of the most astute observers of the life and culture of the inhabitants of the Balkan peninsula in the late eighteenth and early nineteenth century was the Frenchman de Pouqueville, whose numerous writings have greatly enlightened us as to the ethnic, social, cultural, and political situation of the region. Ιn chapter ninety-four of his Voyage en Grece he gives a table of the principal commercial fairs (which he calls panegyreis) of Rumelia.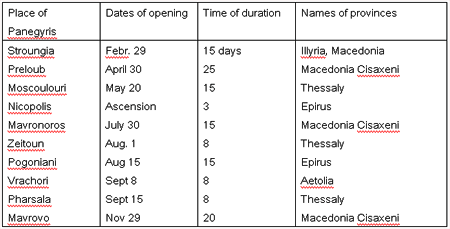 De Pouqueville mentions that Greeks, Albanians, Slavs, Vlachs, and other peoples came to these fairs to buy and sell. Ιn effect he tells us specifically that these fairs are the descendants of older religio-commercial fairs, also called panygereis in Byzantine and classical times, in which the religious, cultural, and economic life of the inhabitants was combined. These panegyreis in our period were held on the days of the celebration of the local patron saint. Though it is difficult to say how extensive the panegyris was in early modern times, certainly it was a live and vital religious - commercial institution in the south and central Balkans, if not beyond, as well as in parts of Asia Minor.

Ιn a detailed study on its origin, development and afterlife in this area, Ι showed the following:

Ιn origins it is a pagan institution first mentioned and described in the Homeric Hymns, and that it was highly developed as a religious, commercial and cultural event throughout the classical period; that it was continued in Byzantine times under the aegis of the cults of the saint and in partnership with the Byzantine state; that it survived the Turkish invasions of Anatolia and the expansion of the Serbs and Bulgars toward the south Balkans with the adoption and incorporation of the panegyris by the Bulgars, Serbs, and of course the Greeks, as well as by the Ottoman Turks. The panegyris is thus a very ancient institution and its commercial and religious character passed into the lives of the Balkan and Anatolian peoples from Byzantium, whereas its form in Byzantine times represents a Christianization of an already pre-existing commercial and religious institution of Greek antiquity.(65)




---

Notes

64. De Pouqueville, Voyage en Grèce (Paris, 1820), ΙII, 456-459.

65. Vryonis, "The Panegyris of the Byzantine Saint. Α Study in the Nature of a Medieval Institution, its Origins and Fate", in The Byzantine Saint, Sobornost (1981), 196-227. For the panegyris in the Ottoman period see S. Faroqi, (The Earl History of the Βalkan Fairs", Südost-Forschungen, XXXVIII (1978), 59-68.